Salzburg Church Concerts
Musica Sacra Trinitatis Salisburgensis
Experience an unique concert for music lovers in Salzburg! The weekly Church Concerts at the Trinity Church at Makartplatz are an absorbing mixture of exeptional works by famous composers. Listen to music played by organ, one or two instrumentalists and sung by skilled vocalists.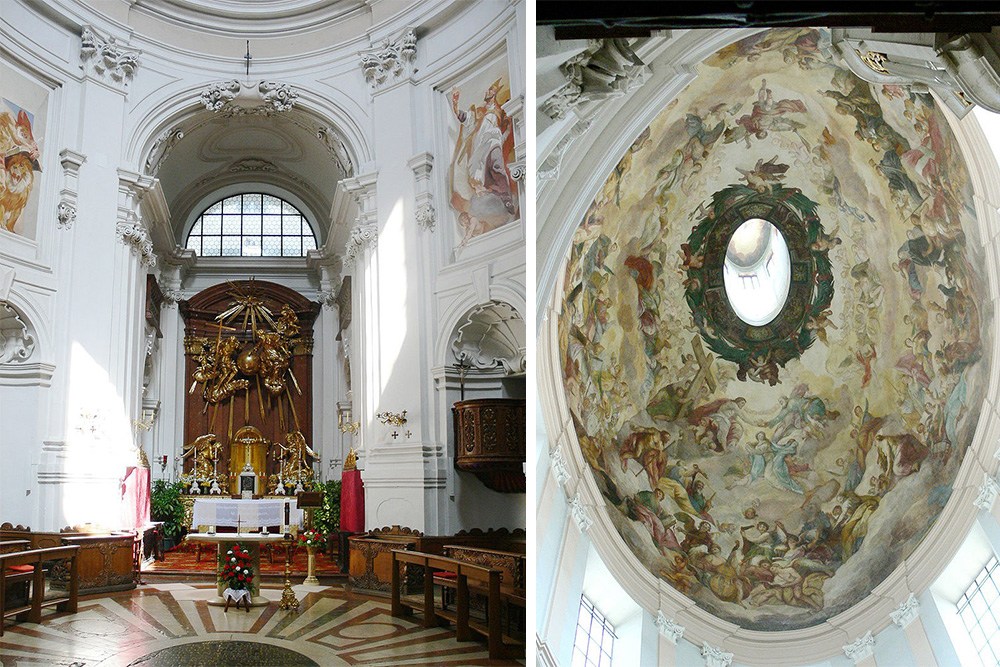 The "Dreifaltigkeitskirche" (Trinity Church) serves as an extraordinary stage for the concerts. It's one of the most beautiful baroque churches in Salzburg and was once one of Mozart's favourite places for practicing. Up to 120 people will fit here, right in the center of the Old Town of the city.
Everything you need to know
When: Every Saturday 6.30 PM – 7.30 PM from April 27th until December 14th
Where: Trinity Church Salzburg
Admission:

Adults: € 25
Seniors: € 20
Students: €15
Groups (10+ members): € 18
Children < 14: free
This Week's Program: The Church Concerts are cancelled in 2020 due to Corona
Tickets & Info
For additional Info please call: 0043 676 446 9797 or write to office@soundofaustria.at. Tickets are available at ticketshops, Salzburg Info Points, hotels, box offices and here:
VOUCHERS also available. Please e-Mail office@soundofaustria.at for more information.
Deutschsprachige Information
Die Kirchenkonzerte beginnen jeden Samstag jeweils um 18:30 Uhr und dauern ohne Pause etwa eine Stunde bis 19:30 Uhr. Veranstaltungsort ist die Dreifaltigkeitskirche Salzburg. Beim Konzert wird kirchliche Musik klassischer Prägung von bedeutenden Komponisten an der Orgel aufgeführt und von einem oder zwei Instrumentalisten (Flöte, Trompete, Geige…) und/oder Gesang begleitet.
Die Dreifaltigkeitskirche ist eine der schönsten Barockkirchen Salzburgs und wurde von Fischer von Erlach erbaut. Mozart, der schräg vis-a-vis wohnte, hat selbst auf der Dreifaltigkeitsorgel immer wieder gespielt. Die Lage der Kirche in der rechten Altstadt ist von vielen Hotels fußläufig erreichbar.
Es handelt sich um ein Musikangebot speziell für Touristen, die Salzburgs kirchenkulturelles Erbe in Verbindung mit Kirchenmusik besonders schätzen. Für unsere Gäste ist die "Musica Sacra Trinitatis" eine Möglichkeit zum Innehalten nach einem langen Besichtigungstag und vor ihrem abendlichen Programm bzw. vor dem Abendessen.
Für Gutscheine bitte e-Mail an: office@soundofaustria.at